Grundfos is a global leader in advanced pump solutions and a trendsetter in water technology. We contribute to global sustainability by pioneering technologies that improve quality of life for people and care for the planet.
"Global leader" means that Grundfos is perceived by its customers and competitors throughout the world as the leading player in the pump industry. We develop, produce, sell and service high quality pump solutions and we set the standard in the industry.
"Advanced pump solutions" means that we offer turn-key solutions to match the requirements of our customers – no matter how complex the solution is, where it is to be used or how big it is.
"Trendsetter within water technology" means that we strive to be among the industry leaders when it comes to finding ways of using new technologies to move and treat water and wastewater.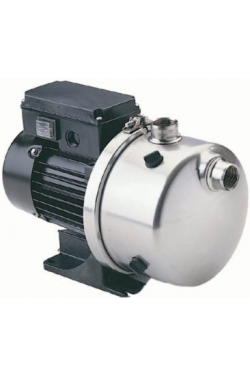 Grundfos JP5 Self-priming pumpThe JP5 pumps self-suction water from a depth of up to 8 m. The pump stand, body and impeller are made of corrosion-resistant stainless steel. This ensures extremely high durability of the pump. The pump can be easily disassembled to replace wear parts. Built-in main switch makes it easy to press the button for water to start.
Technical data: "Max. Capacity: 3.8 m3 / h" Max. Lifting height: 40 m "Engine power: 775 W" Current: 3,6 A " : 1-phase "diameter of discharge port: Rp 1 ´´"
490,00 €