Similar products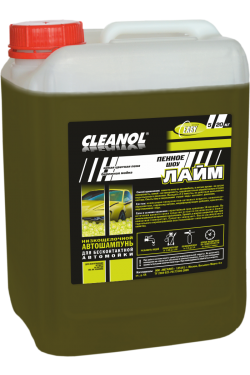 Mode of application:
Before use, mix the upper and lower phases thoroughly. Mix with water 1:30-1:50. Apply foam to the car: in summer - on a dry surface, in winter - on the surface, pretreated with a high pressure water jet. Wait 2-3 minutes, not allowing the formulation to dry. Rinse off foam and dirt with a high pressure water jet.

Composition:
composition of surfactants, complexing agents, sodium hydroxide, modifying additives, dye, prepared water.

Shelf life and storage conditions:
The warranty period of storage is 18 months. At the end of this period, the remedy remains safe and can be used for its intended purpose. Store in tightly closed containers at room temperature. The product freezes. After defrosting and thorough mixing, restores its original properties.


When working, use personal protective equipment. Avoid contact with mucous membranes and skin. In case of contact rinse with plenty of water. If necessary, consult a doctor.
39,00 €
Powder for self-service washes

Product description:
Highly effective washing powder for removing organic soiling. With special complexing ingredients it is suitable for almost all water hardness. It does not contain silicates, so it does not leave stains on the glass.

Application: Supply through existing powder delivery system in self-service washers.

Use: Apply 12-15g/ 1 min, pressure 100-200 bar, washing temperature 45-55

Precautions:
H302 Harmful if swallowed.


H315 Causes skin irritation.


H318 Causes serious eye damage.


H319 Causes serious eye irritation.

P264 Wash thoroughly after handling.

P280 Wear eye protection / face protection.

P305+P351+P338 IF IN EYES: Rinse cautiously with water for several minutes. Remove contact lenses, if present and easy to do. Continue rinsing.
P337+P313 If eye irritation persists: Get medical advice/attention.
H412 Harmful to aquatic life with long lasting effects.



Technical data:
Appearance: powder
Color: white
Fragrance: characteristic
PH: ~10.6
Bulk density: 0.69 kg / l

Important Ingredients:
<5% nonionic surfactants, sodium carbonate perfumes ,
≥15 - <30% phosphates,
50-100% sodium carbonate

Storage:
Do not expose to direct sunlight. Store in a well-ventilated place, in a cool and dry place. Protect from frost and overheating.

Article number: 1004431241000



WARNING

GHS07


Information sheet on ingredients available on request from medical staff.


Produced in EU for:
Alfa Management OÜ
www.mtechcarwash.eu



20 KG

52,00 €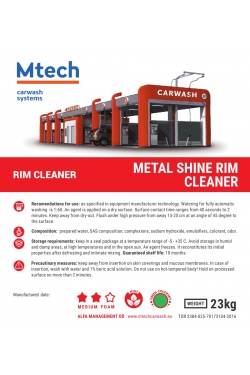 Wheel and engine cleaner METAL SHINE RIM CLEANER MINT
COMPOSITION:

prepared water, SAS composition, complexions, sodium hydroxide, emulsifiers, colorant, mint odor.



STORAGE REQUIREMENTS: keep in a seal package at a temperature range of -5 - +35 C. Avoid storage in humid and damp areas, at high temperatures and in the open sun. An agent freezes. It reconstitutes its initial properties after defrosting and intimate mixing.
GUARANTEED SHELF LIFE: 18 MONTHS
RECOMENDATIONS FOR USE: as specified in equipment manufacturer technology. Watering for fully automatic washing is 1:60. An agent is applied on a dry surface. Surface contact time ranges from 40 seconds to 2 minutes. Keep away from dry-out. Flush under high pressure from away 15-20 cm at an angle of 45 degree to the surface.
52,50 €